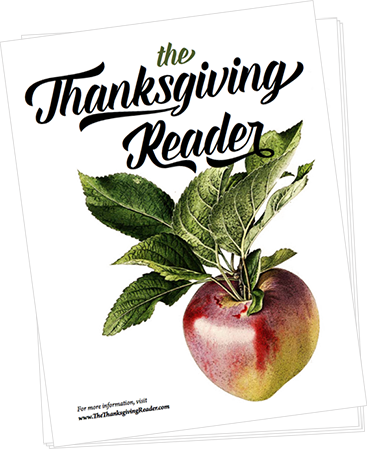 It's Thanksgiving time again, a time to give thanks in whatever way you can, wherever you are.
A day to let go of your stresses, frustrations, problems, and whatever is tiring you.
It's time to join with whoever you're with and give thanks for the harvests of your life. And if you're alone you can still take a moment to appreciate something good that is in your life.
Seth Godin created and offered his Thanksgiving Reader in 2015 and I loved it and shared it here on Surprising Lives.
This year I'm updating that original post to specifically invite all Canadians to share this reader on our Thanksgiving as a way to give thanks.
This reader is certainly not only for the USA, it's also for anyone and everyone.
Please go ahead and read Seth's invitation.
You and your family can join the rest of us this year.

The Thanksgiving Reader is something we can all do together, transforming our holiday into something even more memorable.

Download the file, print it out and become part of it. It's free.

Have a wonderful holiday.
Posted by Seth Godin on his Thanksgiving Reader Download Page.  Please go to this page for the download.